Lawn Management Services
Home owners aspire to having the perfect lawn that mirrors a major sports field or golf course but the knowledge and techniques required in achieving this are at most times out of reach for most. That's where the services of a professional lawn management expert will assist you in achieving your dream.
Our lawn maintenance programme is based on an eight weekly call cycle – six ( 6 ) visits per year. Slow release fertiliser is applied on each visit to encourage and maintain strong healthy plant growth. We will then monitor the lawn condition for any other required product applications, ie; selective weed control or Fungicide / Insecticide / Moss applications.
Seasonal de-thatching ( verticutting ) is recommended for the removal of thatch build up on the lawn surface. This process will thin the lawn out and increase surface drainage, reduces fungal disease and so improves plant and root health.
We continue to improve soil health, pH levels and plant performance by regular applications of amendment and organic fertiliers.
The only in-house service that we do not offer is lawn mowing. But with that we can still recommend an independent lawn mowing contractor that operates in our clients area. We encourage your lawn to be mown at least once per week in the growing season.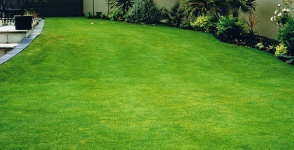 Weed Control
Weeds in your lawn can be selectively sprayed.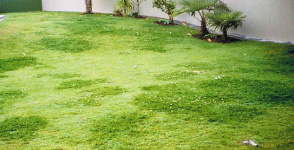 LAWN RESTORED
Weeds controlled -
Maintenance programme started.